Special Supplement, Magazine, Art & Life Desk
Eid- Festival of Love, Peace, Harmony and Brotherhood
---
Eid is a sacred celebration when the Muslims come together and hug each other with promises of charity, kindness, harmony and brotherhood. The festival has come as a ray of hope and peace in the hearts of millions of people. The Islam community from all across the globe shows their gratefulness to Allah for everything they own. It is a blend of harmony amongst different religion where people come together to celebrate this day with full zest. There are two kinds of Eid that are celebrated throughout the globe with great fervor and fun. The first one is Eid-ul-Fitr and other being Eid-ul-Azha. Eid-ul-Fitr marks the end of Ramadan when the Muslims break the fast, whereas Eid-ul-Azha honors the end of the Haji Pilgrimage. Both are celebrated all over the world by Muslims. Different places have their own tradition of celebrating this much awaited festival. Let's look at some of them.
Saudi Arabia
Eid celebrations in Saudi Arabia are typically some of the most extravagant and sumptuous. Exact festivities will vary depending on the region, but they are united by the common theme of giving and generosity. After prayers, Eid is celebrated at home with a special meal, as well as the giving of gifts or money to the children in the family. It is also not uncommon for shops to give out generous free gifts to all their customers on the day, and many people will go out of their way to demonstrate their generosity by giving gifts of rice and other essentials to the poor and needy.
In the major cities of Saudi Arabia, such as the capital Riyadh, the festival is celebrated with lavish and impressive firework displays at night.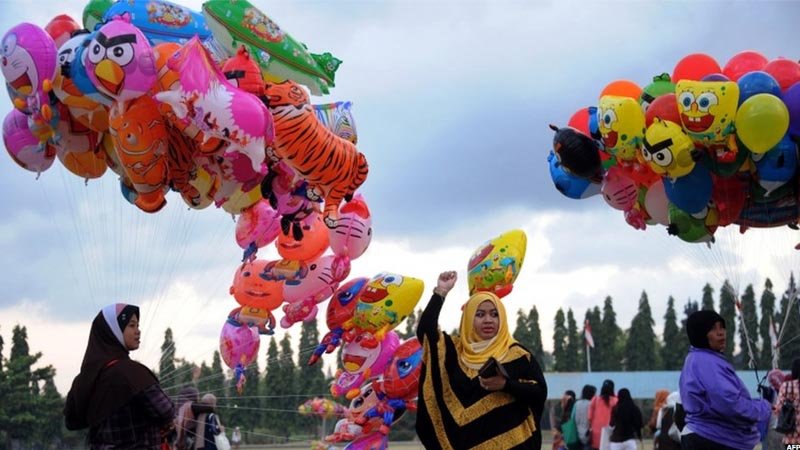 Indonesia
In Indonesia, Eid al-Fitr is known as Hari Raya Id ul Fitri (or is more popularly as Lebaran), and it is also a public holiday. It is traditional for people to go back to their hometowns to celebrate with their parents and older relatives, which leads to huge numbers of people effectively migrating across the country.
It is customary for Indonesian Muslims to don traditional formal clothing during Eid, the male outfit being called baju koko, and the female traditional dress kebaya kurung. People will often go to visit the graves of loved ones to pray as well as to clean and tidy the graves as a sign of respect.
The United States
There are approximately 3.3 million Muslims living in the United States, and the way in which they celebrate Eid al-Fitr has a lot in common with some of the other countries we have looked at. Although the festival is not a public holiday in the US, many Muslims will take several days off work for the celebrations. Most people go to offer up the Eid prayer in Islamic centres, convention halls or other venues, including open parks.
Afterwards people will generally visit each other's homes for a celebratory meal, and will then attend amusement parks, ice rinks or other entertainment venues for a day of fun!