All Section, Art & Glamour
'Writers are like lonely stars'
In a conversation with popular director Himu Akram
---
Himu Akram is a popular Bangladeshi director who believes in very simple storytelling process on the screen. He has been regularly chosen on television for the last eleven years. His dramas of many spectacular performances are still being made. Here's a conversation about the stories and dramas with Himu Akram…
After a long time you have started working again in the industry…
Yes, about a year later. I was in the United States from the last one year. I was there for the citizenship process. This time I returned with the green card.
How long has been the distance with television for staying outside the country?
Not in my case. Although I was not in the country but I was on the television regularly. I was shooting two series 'Bideshi Para' and 'Champakali Talkies' for Ekushey TV and RTV.
Many directors now rush in the media, what do you think about it?
It's positive. We should work as a playful competition. It's time to think about who can work better. The happiness is that the base is made by some young directors of our media. Their works are really impressive. But there are very few who are good.
Director Himu Akram
How do you make memorable stories?
For that you need to be a story maker. If you do not understand the story, then there will never be a good drama. But Mosharraf Karim, Afran Nisho, Apurba, Mehjabeen, Tisha are bigger stars than a good story. So the right casting with good stories make the audience remember the story.
How logical it is to decide the quality of a drama on the basis of YouTube views?
It's totally unreasonable. There are numerous dramas on YouTube, whose views are 3 or 4 million. Unfortunately, those dramas are not that good to enjoy with family members. We had the culture of enjoying dramas with the whole family. If the quality is not tested, what is the benefit of boosting the view!
Why YouTube is a big platform?
Because it is free. There is no preview committee of YouTube. If you want, you can upload anything. Who will stop it? But it is not possible on television. There are strong preview committee on television channels. So it is almost impossible to publish an experimental drama.
Share something about the life of a writer…
My first story was published in 2000 on weekly Jai Jai Din. The name of the story was 'Opekkha'. Since then, numerous short stories have been published on various newspapers. The first book was published in 2006. It was the 'She Rate Brishti Chilo'. The second book 'Kichu Jol Kichu Sunnota Ghire' was published in 2008. Now I'm writing a new story which is 'Janalay Ashe Na Keu'. It will be published in the upcoming book fair.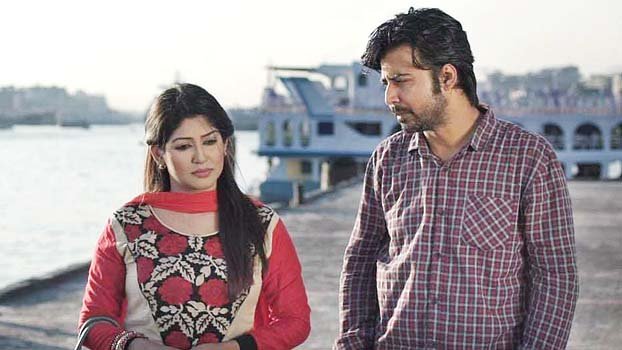 A still from Himu Akram's 'Konkabotir Chithi'
Share about the first drama you have directed…
'Shagor Dakiache Tare', the first drama I directed in 2008, and Channel-i aired the drama. And in the last eleven years, I have directed almost 400 single dramas, telefilms, series and TVCs. 'Jolchaap,' 'Morche Pora Shikol,' 'Palki,' '72 Ghonta,' 'Matir Kathal,' 'Noor Alamer Cassettes,' 'Kangkabatir Chithi,' 'Joynal Jadukor' are among the favourite dramas.
What about your new works?
I'm working on some telefilms now. 'Sakhina,' 'Nodir Naam Mayabati,' 'Alta Banur Premchand Ebong Reshmi Churhi,' 'Madhubala Nitai Dasher Bou Chilo,' 'Khawab'. These are all off-track stories. Without these I'm directing two series, which are 'Shanti Molom 10 Taka,' 'High Voltage'.
Are you a storyteller, playwright or director?
Being a director is not very difficult. It is difficult to be a storyteller. It's not everyone's cup of tea.
Would you tell us something about your family?
The writers are like lonely stars. My thought is, when you have pain inside, you can write better.