National
Technology invented to reduce pressure on declining land
SAU researchers devise country's first vertical floating bed system
---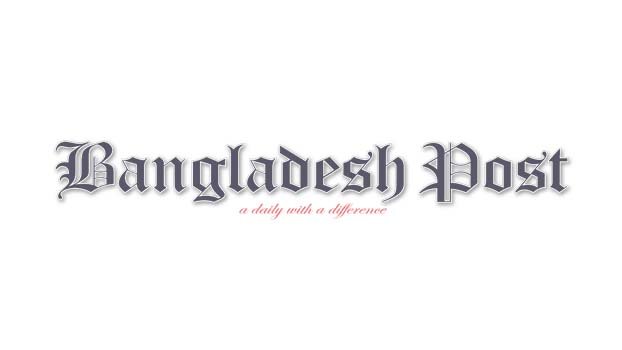 About three million hectares of land remains uncultivated across the country during the first half of the year, especially during the monsoon. As a result, there is no work in those areas at that certain time of the year.
Farmers suffer losses as there is no agricultural yield and there is a shortage of food items including vegetables.
In this situation, to keep agriculture afloat in flood-prone and waterlogged areas of Bangladesh, a teacher and two students of Sylhet Agricultural University (SAU) have developed an innovative technology to reduce the pressure on the declining land by producing more crops from a single space on vertical floating beds.
Dean of SAU Faculty of Agricultural Engineering and Technology and Chairman of the Department of Farm Power and Machinery Professor Dr Muhammad Rashed Al Mamun along with two students of his department Asif Al Razi Nabil and Sadia Ashrafi Fairuz has invented the technology.
The researchers said, using sacks, bamboo, CPVC pipes and water drums they created a special structure of 5 feet long and 2 feet wide with three vertical layers. The layers were covered upwith four inches of soil. The whole structure waskept floating on the water using three water drums. They said that any kind of creeperscan be produced in the prepared layers. Farmers do not have to face any problem to irrigate as it is floating on water.
The researchers also said that farmers in flood-prone areas can cultivate on the structure effortlessly by floating the structure on stagnant water and after the flood waters recede, the structure can be placed on dry uncultivated land to keep agricultural activities active.
They have already experimentally cultivated high yielding red spinach in the structure and have been successful. By placing the structure on completely unusable waterlogged land and cultivating it in three vertical levels, they have been able to bring in higher yields using less space which is impossible to get through conventional farming methods. This structure can also be used for a long time, as it is made with affordable and readily available materials.
The researchers hope that by using this technology, farmers will be able to harvest more crops at home, which will play an important role in ensuring the country's food security. Besides, this technology is very useful for our country as the population is increasing and the amount of cultivable land is decreasing.
The researchers believe that the innovation will play an important role in sustaining year-round agriculture in the highlands and lowlands of the country.