Supplement, Bon Appetit
What to eat
Pantry recipes to make while you're stuck at home
---
Maybe there's a recipe you've always wanted to try, but it requires more ingredients and steps than you have ever had time to take on. Maybe there's a dish you crave when it feels like the world is ending. Either way, staying home due to fear of the spreading coronavirus is a great excuse to spend all day tinkering in the kitchen. Here are some foods that would make for a fun and eventually delicious project. Take a look, put your apron on and get cooking. Here goes the 1st part.
Piri-piri Chicken
Ingredients
3 large sweet potatoes (about 900g), peeled and cut into large chunks
Oil, for drizzling
6-8 chicken thighs, skin left on
2 red onions, cut into wedges
25g sachet piri-piri spice mix (or a mild version, if you like)
300g long-stem broccoli
Instructions
Heat the oven to 180C/160C fan/gas 4. Toss the sweet potatoes with a generous drizzle of oil and some seasoning, and tip into a very large roasting tin. Push the potatoes to one end of the tin, then, in the other end, toss the chicken with the onions, spice mix, a drizzle of oil and some seasoning. Roast for 40 mins, stirring everything halfway through. Add the broccoli to the tin, drizzle with a little oil and season, then roast for 10-15 mins more.
Remove the chicken, onions and broccoli from the tin. Roughly mash the potatoes using a fork, making sure you incorporate all the chicken juices and spices from the pan. Spread the mash over the base of the tin, then top with the broccoli, chicken and onions and serve from the tin in the middle of the table.
Stuffed Bell Pepper Boats
Ingredients
1 pound lean ground turkey
1 teaspoons chili powder
1 teaspoon cumin
1/2 teaspoon black pepper
1/4 teaspoon kosher or sea salt
3/4 cup salsa, no sugar added
1 cup grated cheddar cheese, reduced-fat
3 bell peppers
Instructions
Remove seeds, core, and membrane from bell peppers then slice each one into 6 verticle pieces where they dip down. Set sliced bell peppers aside.
Cook ground turkey over medium-high heat, breaking up as it cooks. Cook until the turkey loses it's pink color and is cooked through. Drain off any fat.
Preheat oven to 375 degrees.
Combine cooked turkey with spices and salsa. Evenly distribute mixture into the bell pepper boats, top with cheese.
Bake on a parchment lined baking sheet for 10 minutes or until cheese is melted and peppers are hot. Optional ingredients: sliced Jalepeno peppers, diced avocado, fat-free Greek yogurt or sour cream, or sliced green onions.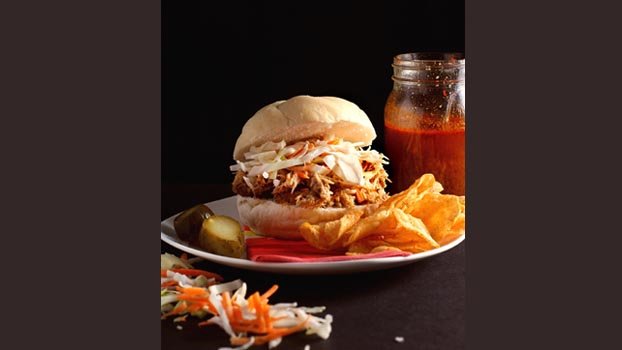 Slow Cooker BBQ Chicken
Ingredients
2 lbs boneless skinless chicken breasts
1 cup BBQ sauce
1/4 cup Italian dressing
1/4 cup brown sugar
1 tbsp Worcestershire sauce
Salt to taste
Instructions
Season chicken breast lightly (a small pinch per breast) with some sea salt and place in your crockpot.
In a mixing bowl combine BBQ sauce, Italian dressing, brown sugar and Worcestershire sauce. Stir until well combined.
Pour over chicken, cover and cook on HIGH for 3-4 hours
Once time is up, you can serve the breast whole, or shred with 2 forks. If shredding, recover and let cook in sauce for about 10-15 more minutes to soak up all that delish flavor.
Serve on buns, over rice, in wraps, on a salad or eat a plateful as is! Our favorite way is on fresh rolls, topped with coleslaw.