Supplement, Bon Appetit
Little Asia Divine Asian flavours in town
---
Asian cuisine has been the talk of the town for ages. The variation it provides in terms of taste and delicacies is beyond description. And Asian cooking is a colourful combination of many ingredients and contrasting flavours. Little Asia, as the name suggests, is a pan Asian restaurant that offers a fare of authentic Asian cuisines.
The interior of this place is quite interesting that enthrals with quirky paintings. From sofas to lamp shades, all are made from recycled materials. The use of wood, bamboo, rickshaw tyres -- all look appealing. The pretty uncomplicated decor is very soothing to look at. The recycled bottles used as lamp shades in the ceiling, wall hangings and artsy frames strike one's eyes to give a very Asian feel.
The restaurant delivers well-presented, creative dishes originating from all over Asia. Chicken Maki Roll (BDT 260) is a twist of Japanese Maki roll which is prepared of nori and sushi rice filled with mushroom, cheese and capsicum with a layer of shredded chicken. Beef Chelow Kebab (BDT 475) is a ground beef kebab served with special aromatic chelow rice and grilled potatoes.
The Iranian Joojeh Kebab (BDT 575) and Lebanese Arabic Shish Tawook (BDT 425) consists of grilled chunks of succulent juicy chicken marinated with aromatic spices are flavoursome. Kabuli Biriyani (BDT 345) is a delicate mixture of rice and lamb. The rice has a fluffy and nice texture. The redolent of sweets and warming spices in the lamb shanks add extra deliciousness to this Afghani biriyani.
The signature Indonesian food, Nasi Goreng (BDT 455) is a fragrant rice dish with chicken steak, vegetables and omelette. This aromatic, earthy and smoky flavoured fried rice is the ultimate comfort food for spice lovers. The classic Thai Pineapple Fried Rice (BDT 495) is heavenly. Golden grains of rice are cooked with pineapple jewelled with crushed nuts, chunks of prawns and meat in addition to vegetables, plus a touch of sweetness for a taste sensation in every bite. The rice is served in a pineapple which is a true crowd pleaser.
Little Asia has their own version of Bangladeshi fusion pizza. The traditional Kalabhuna of Chattogram got the new form through Kalabhuna Pizza (BDT 895). Besides, traditional spices and procedures of preparation, mozzarella and cheddar cheese with colourful toppings are also used. The quantity is good for four people. Have a bite of this pizza with a sip of Mint Lemonade (BDT 100). Well, if you are up for some fine Asian dining Little Asia is a good option. Drop by to know more.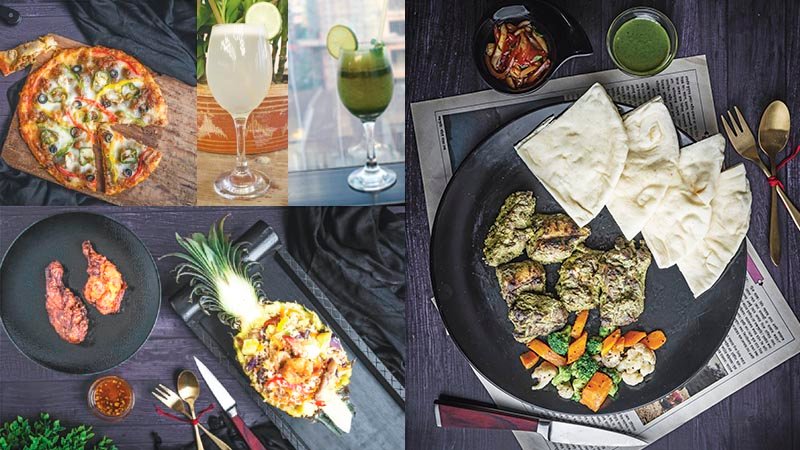 Place – Little Asia, Rupayan ZR Plaza, Satmasjid
Road, Rd 10A, Dhanmondi
Opening Hours – 12pm to 11pm (Every day)
Price for Two – BDT 900 (Approx)