Supplement, Bon Appetit
Lavish feast fair at The Courtyard Bazaar
---
These days, Dhaka is warming up to the culinary marvels in their restaurant scene, each being different in its own way, in terms of ambience, cuisine and of course taste and flavour. Well, those of you who consider food as bae - we have found a place for you. We present to you The Courtyard Bazaar that serves an impressive range of authentic Middle Eastern and Indian cuisines to the heart of Gulshan. It is one such place that is ideal for a magical dinner served with a spectacular view being sheltered by a rich, green drapery. It gives a chance to nourish the soul seated in nature's freshness.
So whether you're looking for comfortable favourites like Chicken Malai Tikka (BDT 200) or vegetarian specials like Palak Paneer (BDT 250) and Dal Makhni (BDT 200) to Falafels (BDT 220) and Shawarma Wrap (BDT 250) or indulgent desserts like Kunafa (BDT 150) and house-made Faluda (BDT 180), TCB has it all where one can try the best of both worlds.
Ahmed Jawad Rahman, one of the owners of Courtyard Bazaar said, "I believe in bringing soul into the recipe as it will bring a soulful food experience to our diners. Our Chef brings years of experience and prides in bringing together the exciting flavors using authentic and fresh ingredients. The rich heritage of India and Middle East serves as the backdrop for the kitchens of The Courtyard Bazaar".
The aroma of succulent Beef Sheek (BDT 170) or Tandoori Chicken (BDT 200) lovingly cooked in the tandoor over the charcoal fire, no wonder are known for their richness and flavour. The Shawarma Meal (BDT 320) or the Grilled Hamour Fish (BDT 490) will surely meet up one's insatiable food craving. The blend of exotic spices with rich sauces in Khatakhat (BDT 495/835) accompanied with Luchi (BDT 25) Garlic Naan (BDT 40) or Butter Naan (BDT 50) is finger licking good.
The delicious Arabian Rice Meal (BDT 330) served with quarter grilled chicken/2 beef kefta are delectable and fulfilling.
Among platters, the tongue tickling Kefta Platter (BDT 550) and Courtyard Platter (BDT 1999) gives a culinary experience like never before. They are also offering a lavish Iftaar Buffet (BDT 999) that consists of a huge array of cuisines like Beef Chaap, Shish Tawook, Hyderabadi Nihari Haleem, Beef Tehari, Hummus, Baba Ganoush, Softie Falooda, Chikon Jalebi and more.
The staffs consist of a great team work and they guarantee that the cuisine, cozy decor, soft music will win the heart of the guests. The Courtyard Bazaar refers to give warm and friendly style of service with an emphasis on accuracy and quality.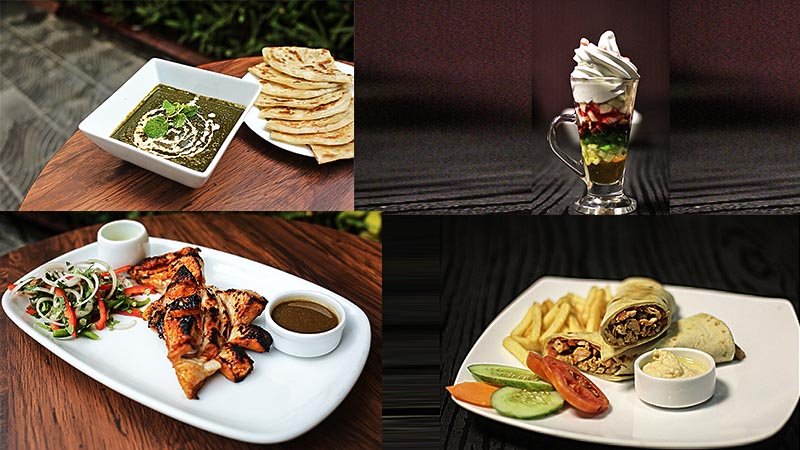 Place – The Courtyard Bazaar, House 21, Road 112, Gulshan 2
Meal for Two – BDT 1000 (approx)
Opening Hours – Sat to Sun 1pm to 11pm
Read more: www.bangladeshpost.net