National
Govt relief distributed with MP's image on sacks
---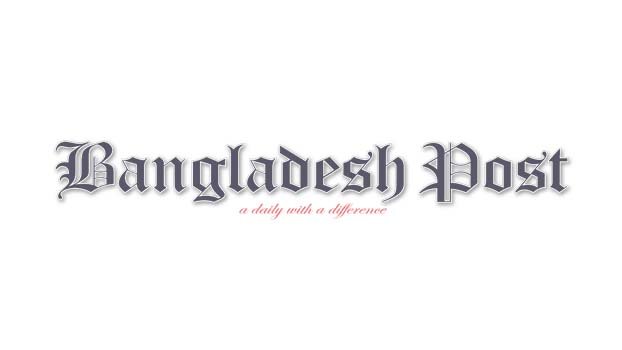 By defying a standing order of not using any personal image of any person in any government relief packages without order, member of Parliament of Rajshahi-1 (Tanore-Giodagari) constituency Omor Faruk Chowdhury was using his photo printed on the packages of government relief and distributing those among distressed people.
A large image of MP Omor Faruk Chowdhury has been printed in every relief package just behind a tiny photo Prime Minister Sheikh Hasina and a small logo of Mujib Borsho.
It is learnt, Tanore Upazila Administration at a meeting on Saturday decided to distribute rice allocated from the Disaster and Relief Ministry through upazila chairmen though, according to the rule, the rice should be distributed through the Upazila Nirbahi Officer. MP Omor faruk Choiwdhury attended the meeting as the chief guest.
The meeting also decided to print a large picture of MP Faruk Chowdhury on each sac of rice to be distributed among poor and distressed people as government relief while small images of Prime Minister and a logo of Mujib Borsho will be printed on this large image of Omor Faruk.
It is alleged, MP Faruk Chowdhury also demanded a huge amount of extortion as relief from the leaders of various professional organisations. He also directed all concerns to deposit the money at a personal account of Krishi Unnayan Bank at Tanore (Account No. 619). The account is operated jointly by the Upazila Chairman of Tanore Lutfar Haider Rashid Moina and local AL Leader Abul Bashar Sujon.
It is learnt, on Monday, Deputy Commissioner Hamidul Haque issued a letter to all UNOs, Upazila Chairmen and Mayors of the Municipalities asking them to procure permission from the ministry of Disaster and Relief in case of using any image of any person on the bag of government relief.
Even, they were asked to procure permission from the Office of the Prime Minister in case of using the logo of Mujib Borsho and the photo of Prime Minister. The letter further directed not to amass the relief goods rather to distribute those by visiting house to house.
By defying the order, relief materials were distributed by amassing a large number of people at Talondo of Tanore, Pachandor, Badhoir and Kolma union parishads where MP Faruk Chowdhruy attended as chief guest. Upazila Chairman Lutfor Haider Rashid Moina was also present. Each goverment relief bag contains the image of MP Faruk Chowdhury.
It is learnt, 54 metric tonnes of rice is being distributed among poor and distressed people as relief through the Union Parishads and Municipalities of Tanore. A sum of money was also allocated for purchasing sanitizers and soaps and to distribute those among the distressed people . But, without purchasing those, the money has been used to prepare the bag containing image of MP Faruk Chowdhruy and government rice is being distributed in those bags.
However, the incident of using persoal image on the government relief bag has created criticism among party insiders. Samaun Islam, Organising Secretary of Jubo League has said, it is unlikey that the government relief should be distributed under any one's personal name and image.
However, Tariqul Islam, Upazila Project Implementation Officer and Talonda UP Chairman Abdul Kashem did not receive the phone for comment in connection of the incident. MP Faruk Chowdhury also did not receive the phone.
Susanto Kumar Mahato, UNO of Tanore informed, he received the letter of the Deputy Commissioner of Rajshahi and the concerned UP Chairmen and Mayor of the Municipalities have been told not to use any bag containing such image but such bags have been used to distribute government relief even on Tuesday.
Deputy Commissioner Hamidul Haque informed, no one would be able to use personal image on any government relief bag without permissioner. He further informed, he would enquire into the incident whether such bags containing personal images were used in distributing government relief.