National
Countrywide Covid-19 immunisation begins
---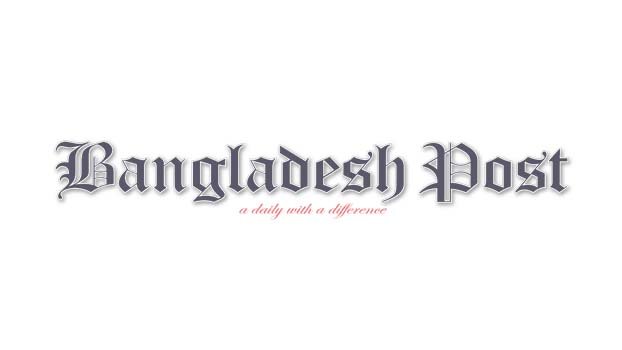 The Covid-19 vaccination drive was launched across the country on Sunday (February 7) after a two-day pilot immunization programne at the end of the last month.
Health Minister Zahid Maleque inaugurated the massive vaccination drive by addressing health professionals through video conferencing from the capital. Earlier on January 28, Prime Minister Sheikh Hasina virtually inaugurated the country's pilot Covid-19 vaccination drive in Dhaka with a nurse getting the first shot.
As part of the countrywide vaccination drive, vaccine shots were administered from hundreds of health centers across the country. Our Correspondents report from various districts.
In Chattogram, thevaccination programme started simultaneously in two centers and 14 upazilas in the district as well as across the country, repots our Staff Correspondent from Ctg.
Deputy Minister for Education Barrister Mahibul Hasan Chowdhury Nawfel inaugurated the programme with the first vaccination at Chittagong Medical College (CMC) Hospital in the morning. Engineer Mosharraf Hossain MP, Chittagong Medical College Hospital Director Brigadier General SM Humayun Kabir, Chittagong Range DIG Anwar Hossain, Chittagong Divisional Health Director Dr Hasan Shahriar Kabir, Civil Surgeon Dr Sheikh Fazle Rabbi, CCC Chief Health Officer Dr. Selim Akhter Chowdhury and Dr Bidyut Barua were present and vaccinated.
In Rajshahi, like other parts of the country, Covid-19 vaccination began in all eight districts under Rajshahi division simultaneously, reports our Rajshahi Regional Correspondent.
Fazley Hossain Badsha, MP, received vaccine at Rajshahi Medical College Hospital (RMCH), followed by Deputy Commissioner (DC) of Rajshahi Abdul Jalil, RMCH Director Brig Gen Shameem Yeazdani and Civil Surgeon Dr Quiume Talukder.
Rajshahi Metropolitan Police (RMP) arranged a rolling out programme at Rajshahi Divisional Police Hospital. Mayor of Rajshahi Mayor AHM Khairuzzaman Liton was present there.
Dr Habibul Ahsan Talukder, Divisional Director of the Directorate General of Health Services, said that the vaccination programme began in at least 662 centres in eight districts of the division. These were set up at three medical college hospitals in Rajshahi, Bogura and Sirajganj; four Combined Military Hospitals in Rajshahi, Bogura and Natore; police hospitals in eight districts; Sadar or general hospitals in seven districts; 67 upazila health complexes and 564 unions. Besides, there were additional vaccine centres at the offices of civil surgeons in eight districts, and one at Rajshahi City Corporation.
In Rangpur, the Civil Surgeons' offices under management of the Directorate General of Health Services (DGHS) launched the campaign at the district and upazila level government hospitals and upazila health complexes in Rangpur division.
Mayor of Rangpur City Corporation Mostafizar Rahman Mostafa first took the vaccine at a booth at Rangpur Medical College Hospital (RpMCH). Civil Surgeon of Rangpur Dr Herambo Kumar Roy and Deputy Commissioner Md. Asib Ahsan took vaccines there.
The Civil Surgeon said that none of the immunised persons felt any type of side effects in Rangpur district. "We are rolling out the vaccination campaign at 15 booths, including eight booths at RpMCH and seven more booths at each of the other seven upazila health complexes in Rangpur as per guidelines of the government," he said.
In Kushtia, the vaccination programme was launched at Kushtia General Hospital on Sunday noon, reports our Kushtia Correspondent.
Joint General Secretary of Bangladesh Awami League and Kushtia-3 MP Mahbubul Alam Hanif inaugurated the vaccination programme in the district by getting himself vaccinated.
Later, Selim Altaf George, another MP from Kushtia (Kumarkhali-Khoksa), Deputy Commissioner (DC) of Kushtia Aslam Hossain, Superintendent of Police (SP) SM Tanvir Arafat, Chairman of Kushtia Zila Parishad Haji Rabiul Islam and others took the vaccine too.
On the inaugural day, about a 100 people were vaccinated. The vaccine was given at four booths of the General Hospital. So far about 2.5 thousand people have registered for vaccination in the district.
In Cox's Bazar, the vaccination programme was inaugurated at Cox's Bazar Sadar Hospital through vaccinating Zila Parishad Chairman Mostaq Ahmed Chowdhury, reports our Cox's Bazar Correspondent.
Later, Kaniz Fatema Mostaq, MP, Deputy Commissioner Mamunur Rashid, Civil Surgeon Dr. Mahbubur Rahman, Press Club President Abu Taher Chowdhury and others were vaccinated.
Civil Surgeon Dr. Mahbubur Rahman said the vaccination programme started at four centres including Cox's Bazar District Sadar Hospital on the first day. Six and a half thousand people have registered for the vaccination in the district till Sunday.
In Jhenaidah, the vaccination programme was inaugurated in Jhenaidah through receiving the vaccine first by MP from Jhenaidah-2 constituency Tahjib Alam Siddiquee, reports our Jhenaidah Correspondent.
Deputy Commissioner (DC) of Jhenaidah Saroj Kumar Nath chaired the inaugural function, while woman MP Khaleda Khanam, Superintendent of Police (SP) Muntasirul Islam, Civil Surgeon Dr Salina Begum among others were present there at the time.
Civil surgeon Dr. Salina Begum said they had ensured vaccination to 104 persons on the first day of vaccination. Each and every persons registered their names will be given the vaccine with a priority basis.
She urged upon the people to enlist their names with the concern office to receive the services to protect themselves from the probable infections of global havoc corona virus.
In Noakhali, Ekramul Karim Chowdhury, MP, inaugurated the Covdi-19 vaccination programme in the district, by taking the vaccine himself at the designated booth of 250-bed Noakhali General Hospital on Sunday morning, reports our Noakhali Correspondent.
Later, Chairman of Sadar Upazila Parishad AKM Shamsuddin Jehan, Vice President of Bangladesh Football Federation Ataur Rahman Manik and other front liners also took the vaccine at the booth.
A total of 33 booths have been opened at 10 centers in the district for vaccination and two health workers and four volunteers have been deployed in each center, said sources Civil Surgeon Office.
In Manikganj, the vaccination programme started simultaneously at nine centers in the district. Deputy Commissioner (DC) of Manikganj SM Ferdous, Superintendent of Police Rifat Rahman Shamim and Civil Surgeon Anwarul Amin Akhand took their first dose of Covid-19 vaccine at Manikganj Nursing College Center. Then others were vaccinated, reports our Manikganj Correspondent.
SM Ferdous urged everyone to take this vaccine to prevent corona. Rifat Rahman Shamim said he was not nervous as he was already aware about the vaccination process.
After the vaccination, Engineer Abdus Salam, a member of Zila Parishad said, "This vaccine is like a normal vaccine. I did not feel bad after the vaccination." According to the Civil Surgeon's Office,
eight medical teams were formed in Manikganj Colonel Malek Medical College and Hospital, eight in 250-bed Manikganj district Sadar hospital, one in police hospital and three in each upazilas. Moreover, two teams will be reserved in the Civil Surgeon's Office. Each team will have two vaccinators and four volunteers.
Civil Surgeon of Manikganj said a total 48,000 doses of corona vaccine were recived in the district. So far, 1,627 people in the district have registered for the corona virus vaccine through apps. 798 people have registered in Manikganj Sadar Upazila, 72 people in Singair Upazila, 73 people in Shibalaya Upazila, 588 people in Saturia Upazila, 128 people in Harirampur Upazila, 90 people in Ghior Upazila and 78 in people Daulatpur Upazila have been registered. He also said that the registrants will be able to get the vaccine from the vaccination center of the health complex of their respective upazilas. Meanwhile, no information were recived about any reaction in the body after the vaccination.
In Chuadanga, as part of the countrywide immunization drive, the progamme was inaugurated in the district by Solaiman Hoique Joarder Selun, MP from Chuadanga-1 constituency, at Chuadanga Sadar Hospital, reports our Chuadanga Correspondent
Dr ASM Maruf Hasan, Civil Surgeon of Chuadanga, took vaccine as inaugural person at first in Chuadanga district. Later medical officers, high officials, journalists and others were administered vaccine.
The inaugural session was presided over by ASM Maruf Hasan, Civil Surgeon of Chuadanga. It was addressed, among others by Nazrul Islam Sarker, Deputy Commissioner (DC) of the district and Jahidul Islam, Superintendent of Police.
According to Civil Surgeon Office, a total of 329 persons have been administered corona prevented vaccine in four upazilas of the district on Sunday. Of the total 100 persons are administered in Sadar Hospital, 70 in BGB Hospital, 100 in Police Hospital, 20 in Alamdanga health complex, 20 in Damurhuda Health Complex and 19 in Jibannagar Health Complex.
The sources added that about 1,816 persons have been registered in the district until February 6. Of the total 1006 are in Sadar upazila, 400 in Alamdanga upazila, 194 in Damurhuda upazila and 216 in Jibannagar upazila.
Over 57 centers have been set up for completing vaccination work. The vaccination centers are 8 in Chuadanga district town, 1 in BGB hospital, 1 in police hospital, 7 in sadar upazila, 18 in Alamdanga upazila, 10 in Damurhuda upazila and 12 in Jibannagar upazila.
In Panchagarh, the inauguration ceremony of the vaccination programme was organised in front of Panchagarh Modern Sadar Hospital, reports our Panchagarh Correspondemnt.
Deputy Commissioner (DC) of Panchagarh Dr Sabina Yasmin inaugurated the programme by taking the first dose of the vaccine in the district.
Later, Panchagarh-1 MP Alhaj Md. Mazaharul Haque Pradhan, District and Sessions Judge Md. Sharif Hossain Haider, the civil surgeon, the superintendent of police, municipal mayor and others were also vaccinated.
In Netrakona, State Minister for Social Welfare Asraf Ali Khan Khasru formally inaugurated the drive by receiving the jab at EPI Bhavan at Netrakona Sadar Hospital, reports our Netrakona Correspondent.
Ashim Kumar Ukil, MP, Deputy Commissioner (DC) of Netrakona Kazi Abdur Rahman, Civil Surgeon Md Salim Miah and Police Super Akbar Ali Munshi also received Covid-19 vaccines at that time, among others.
Civil Surgeon Md Salim Miah said that 22 boths opened where 32 thousand people will receive vaccines. A total of 132 health workers by 10 medical teams will be deployed for the vaccination campaign in the district in the first phase.
The health Department, Netrakona have received 7200 doses by this time while the will reached within short days, he added
In Tangail, the vaccination programme began in the district like all over the country. The programme was inaugurated at Tangail General Hospital at about 10:00 by applying vaccine to the body of Deputy Commissioner (DC) of Tangail Dr Ataul Gani, reports our Tangail Correspondent.
Then Police Super Ranjit Kumar Roy, Civil Surgeon Abul Fazl Md Shahabuddin Khan and others received the vaccine.
The Tangail 250-bed General Hospital has nine centers and three booths in each of the remaining 11 upazila health complexes. Each booth will have two vaccinators and four volunteers. The district has a total stock of 120,000 doses of corona vaccine. The corona vaccine will be applied to registered persons by stages.
In Lakshmipur, Civil Surgeon of the district and Superintendent of Lakshmipur Sadar Hospital Dr Abdul Gaffar launched the vaccination programme, taking the first dose himself, reports our Lakshmipur Correspondent.
Later, Deputy Commissioner (DC) Anwar Hossain Akand, Chairman of Lakhsmipur Sadar Upazila Parishad and district Juba League president AKM Salahuddin Tipu, Additional Deputy Commissioner (ADC) Shahidul Islam (Revenue) and others were vaccinated.
In the first phase, 8,000 people were registered in the district for vaccination. A total of 60,000 doses of vaccine received from the Central Health Reserve will be given to 30,000 people in first and second phase, said the civil surgeon.