Supplement, Travel & Tourism
Contribution of BAF in Liberation War
---
Noor Islam Habib
Mass upsurge of 1969, land slide victory of Bangladesh Awami League, historic 7 March speech of Bangabandhu Sheikh Mujibur Rahman deeply influenced and inspired Bangalee members employed in Pakistan Air Force. When Liberation War broke out Bangalee pilots stationed in West Pakistan joined the war fleeing from Pakistan. Many of them arrested by Pakistani Forces and were brutally tortured. Flight Lieutenant M Matiur Rahman attempted to hijack PAF fighter aircraft for joining Liberation War. On the way to India hijacking PAF fighter plane in mid air the aircraft crashed and he died near Indian border in Thatta of Pakistan territory. Many Bangalee Pilots in East Pakistan fled to India and joined Liberation War.
Squadron Leader Sultan Mahmud fled from West Pakistan and took part in War of Liberation in 1971 as an ordinary soldier under Sector No. 1. He, as a valiant freedom fighter destroyed electric Sub-station in Modunaghat in Chattogram and disrupted smooth power supply in Chattogram area. He also worked as Officer Commanding of new born BAF unit 'Kilo Fight'.
Flight Lieutenant M Matiur Rahman came Bangladesh in last week of January of 1971 on two months leave. When war broke out on March 25, he opened a training camp in Bhairab and provided training to Bangalee youths. He also took part in anti-Pakistani rally and procession and collected weapons from various sources for fighting against occupation forces and made resistance. In spite of being a member of Pakistan Air Force he joined resistance war by dint of Patriotism.
Flight Lieutenant M Matiur Rahman returned to Karachi after the leave and decided to join Liberation War actively hijacking a fighter plane. Pakistani Pilot Rashed Minhaz was preparing for a solo flight with a training aircraft. Then Flight Lieutenant M Matiur Rahman ordered him to stop the plane on run-way as being authorized flight safety officer. Minhaz stopped the plane and then Matiur climbed into the cockpit. In the meantime he sent a message to control tower that he has been hijacked. Minhaz wrestled with Rahman to take control over the plane and during that time the plane crashed and both the pilots died. The day was 20 August of 1971. Flight Lieutenant M Matiur Rahman was decorated with the highest oder of military 'Bir Shreshtho' for his supreme sacrifice in Liberation War. Matiur was buried in Pakistan in a graveyard of fourth class employee and hanged his photo at the entrance of Mashrur Air Base indentifying him as a traitor. After over 30 years of negotiations, Matiur's mortal remain was finally returned to Bangladesh on 24 June 2006 and was buried in Martyred Intellectual Graveyard in Mirpur, Dhaka.
Flight Lieutenant Shamsul Alam came to Tejaon Airport on leave and was arrested by Pakistan forces. He was brutally torturned during his confinement. He was released on 4 September when general mercy was declared. After his release he went to India and took part in Liberation War and was decorated with Bir Uttam award for his heroic role in War. Among others Group Captain AK Khandkar, Wing Commander Khademul Bashar, Flight Lieutenant Ahmed Reza (Retd), Wing Commander Shamsur Rahman Mirza (Retd), Flying Officer Badrul Alam and Squadron Leader Sultan Mahmud fled to India and joined Liberation War. Squadron Leader Manjurul Haque, Squadron Leader Habibur Rahman and Flying Officer GH Mirza were captured while fleeing. Bangladesh Air Force was formed in Dimapur, Nagaland of India on 28 September in 1971 with three non-combat aircraft received from Indian Air Force as gift. The three aircrafts were Alouette III helicapter, Otter DHC-3 and DC-3 Dakota (Gifted by the Maharaja of Jodhpur). Pilots of Alouette III helicapter were Squadron Leader Sultan Mahmud, Captain Shahabuddin Ahmed (PIA Pilots) and Flying Officer Badrul Alam.Pilots of DHC 3 Otter plane were Flight Lieutenant Shamsul Alam, Captain Akram Ahmed (PIA Pilot) and Captain Sarfuddin Ahmed (Nongoverment Company Pilot). And Pilots of DC-3 Dakota plane were Captain Abdul Khalque (PIA Pilot), Captain Abdul Mukit (PIA Pilot) and Captain Alamgir Sattar (PIA Pilot). Squadron Leader Sultan Mahmud was appointed as Officer Commanding of newborn Air Force unit 'Kilo Flight'.
Trainers of the three aircrafts were Squadron Leader Sonjoy Kumer Chowdhury,Flight Lieutenant Ghoshal and Flight Lieutenant K C Sringla of Indian Air Force.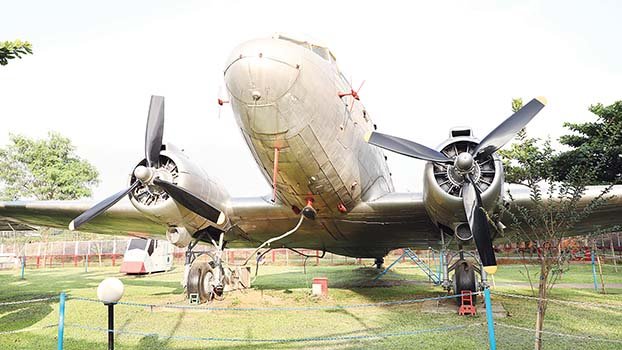 Technicians of Bangladesh Air Force converted the non-combat aircrafts into combat aircrafts by dint of their untiring effort and skill. Group Captain Chandan Singh of Indian Air Force assisted them in this work. Nine officers and 38 airmen inducted in Kilo Flight. Group Captain AK Khandkar was appointed as Deputy Commander-in-Chief of Liberation War, Wing Commander Khademul Bashar as Sector Commander of Sector No. 6 and Squadron Leader Hamiullah Khan as Sub-Sector Commander and Sector Commander of Sector No. 11.
Bangladesh Air Force first went on air attack on December 3 (1971) inside Bangladesh with Aluette- III helicopter. The pilots were Squadron Leader Sultan Mahmud and Flying Officer Badrul Alam. These valiant pilots destroyed Oil Depot at Godnail of Narayangonj by firing rockets at that night.
At the same night (3 December) Squadron Leader Shamsul Alam and Captain Akram Ahmed attacked Eastern Refinery in Chattogram and totally destroyed the Oil Depot. They took off at 11-40 PM and reached their target at 01-40 AM and successfully returned at Silchar at 03-10 AM. Members of Kilo Flight also later conducted several air attacks in Sylhet and Moulvibazar area.
A total of one thousand and 131 members of Bangladesh Air Force actively took part in Liberation War. For their heroic role in Liberation War one was decorated with Bir Shreshtho gallantry award, six Bir Uttam award, one Bir Bikram award and 15 Bir Protik award. 50 BAF members including six officers made their supreme sacrifice in Liberation War.
For the service in Liberation War Bangladesh Air Force and Group Captain Shamsul Alam (Retd) were given Independance award in 2017. Air Vice Marshal (Retd) AK Khandkar and Squadron Leader (Retd) Badrul Alam were conferred Independence award in 2011 and 2016 respectively. Air Vice Marshal (Retd) Sultan Mahmud was also given Independence award in 2018.
Valiant Freedom Fighter of Kilo Flight Captain Akram Ahmed said, "Our young generation must know the correct history of our Liberation War. Seed was planted during the language movement in 1952. Ultimately Bangabandhu nurtured that seed to a full grown tree with the branches of six points. Actually the six points program inspired us for an independent country with Bangalee culture, secularism and free from economic exploitation." The present young generation must uphold these basic principles for which Bangladesh was liberated, he added.
Noor Islam Habib is Assistant Director, ISPR