National, Front Page
Hartal Mayhem
BNP-Jammat cadres escalate terrorism
---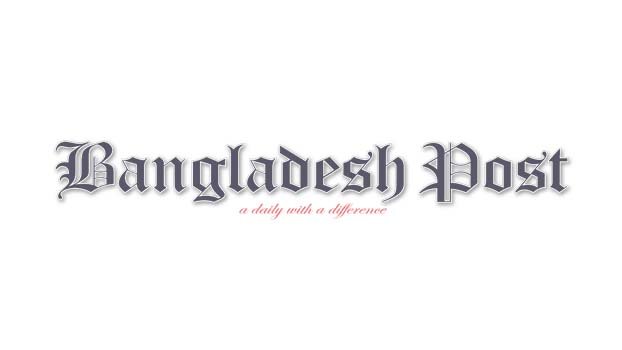 Transport workers burnt to death
34 vehicles torched
Bangladesh National Party (BNP) and its radical ally - Bangladesh Jamaat-e-Islami, during Sunday's dawn-to dusk general strike, resorted to political violence setting fire to public and private buses and pelting stones at the on-looking security men.
The violence left three people dead, including a journalist.
Police said that during the day-long strike or hartal the political party (BNP) along with the support of the extremist organization Jamaat-e-Islami, targetted killing innocent people on the streets, setting fire to vehicles and property and attacking policemen.
Although much lesser in intensity compared to Saturday's street violence, BNP gangsters were also found attacking private vehicles, public transports and throwing pieces of bricks at the police forces while giving slogans in a hostile mood while forcing ordinary people to leave the streets.
At the end of the hartal programme BNP leaders announced a three-day countrywide blockade programme from tomorrow (October 31) in a bid to destablise the country.
Despite BNP-Jammat sponsored dawn-to-dusk hartal, the capital city continued to bustle with public vehicles moving about, carrying a noticeable number of passengers. However, many of the passengers expressed concerns due to reports of buses being burnt elsewhere.
Sources said that hartal did not appear to have any significant impact on the capital's road traffic in the morning. Huge public transport continued to operate on different roads throughout the day across the country.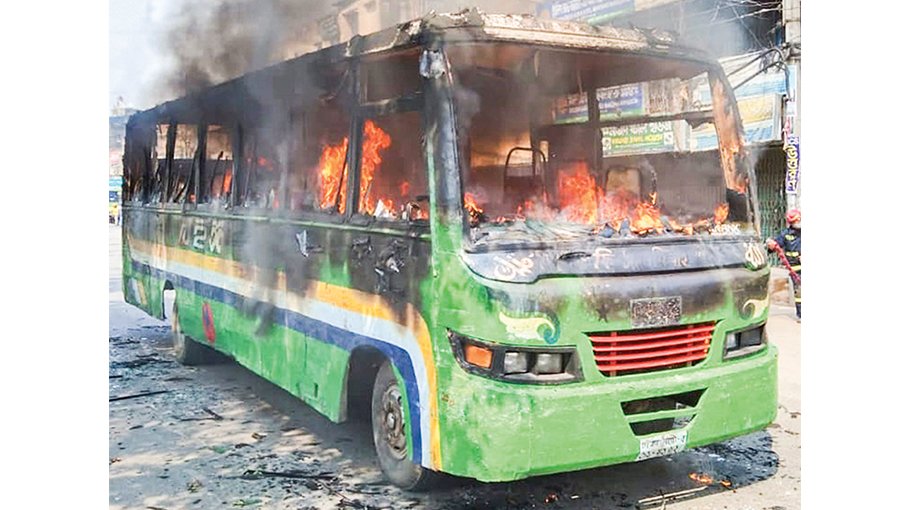 Meanwhile, an helper of a bus was burned to death and its driver was injured as BNP- Jamaat caders allegedly set a bus belonging to Wasim Paribahan on fire in Demra in the capital early Sunday.
The deceased was identified as Nayem, 22, son of Alam Chaklader of Barisal district and the injured driver was identified as Rabiul Islam, 25.
At that time of the fire incident the bus was parked on the side of the road. The victims were sleeping inside the vehicle.
The injured driver is undergoing treatment at Sheikh Hasina National Institute of Burn and Plastic Surgery with 17 percent burn injury, said the police.
A senior journalist Rafiq Bhuiyan, who was injured when BNP-Jamaat activists threw brickbats succumbed to his head injuries at a city hospital early Sunday.
A local BNP leader, who tried to set a bus on fire, died after falling off a building while fleeing in Dhaka's Mohammadpur area during the hartal.
The deceased was identified as Abdur Rashid, 35, local government affairs secretary of Adabor ward 30 unit of BNP.
Quoting witnesses, Mahfuzul Haque, officer-in-charge of Mohammadpur Police Station, said Rashid tried to set a bus on fire in Mohammadpur Town Hall area during the hartal. At one stage, local people chased him, forcing him to run away. Being chased, he went to the rooftop of a building and fell from there while trying to jump to another building.
An activist of Sramik League was allegedly killed in an attack by the leaders and activists of BNP during the nationwide dawn-to-dusk hartal at Mahendranagar in Sadar upazila of Lalmonirhat district.
The deceased was identified as Jahangir Hossain, 50, an activist of Gokunda unit Sramik League and son of Azizar Rahman of the area.
Witnesses said local leaders and activists of Awami League and its associate bodies brought out a procession during the daylong hartal in the morning. When the procession reached Burirbazar Mosque area, police obstructed them.
At one stage, some BNP men started throwing bricks targeting police and Awami League men, initiating a chase and counter chase. Later, some BNP men beat up Jahangir and stabbed him with a sharp weapon, leaving him injured, they said.
Jahangir was taken to Rangpur Medical College and Hospital where the doctors declared him dead, said Omar Faruk, officer-in-charge of Sadar Police Station.
Two activists of Awami League were also injured in the attack and they were undergoing treatment at the hospital.
BNP activists set fire to a Shikar Paribahan bus in front of Baitul Mukarram National Mosque. BNP workers also vandalised three buses at the BRTC bus counter in Uttara area. Later, the fire service personnel arrived and successfully extinguished the bus fire.
Besides, there were reports of individuals throwing bricks at three BRTC buses in Uttara area, leaving their windows broken.
In Bogura, at least 13 people were injured and 17 vehicles were vandalised on Sunday. BNP activists blocked the Dhaka-Dinajpur highway in Sadar Upazila area. When the lsecurity forces tried to evacuate them, a clash broke out. At this time, the official car of Bogra Sadar Upazila Executive Officer was vandalised. Later they also vandalised some other cars. Daily Jayugantar's reporter Shakil was wounded on his leg after being hit by a brick and a few police officials were also injured.
Two police officials were injured when brickbats were thrown at them at around 9am in Azadnagar area of Lakshmipur. They have received primary medical treatment at Upazila Health Complex. The injured have been identified as Sub-Inspector of Ramgati police station Nazmul and Assistant Sub-inspector Mannan.
A BRTC double-decker bus was also set on fire Sunday morning in Gazipur's Tongi area.
Mustafizur Rahman, officer-in-charge of Tongi East Police Station, said a Dhaka-bound BRTC double-decker bus was set on fire by BNP men in front of Cheragali Market in Tongi during the ongoing hartal.
BNP-Jamaat activists vandalised a car of Upazila Nirbahi Officer (UNO) of Itna upazila under Kishoreganj district.
At the time, police fired several rounds of teargas shells to disperse the BNP-Jamaat men.
Md. Daud, Officer-in-Charge of Kishoreganj Sadar Model Police Station, said that when the car reached Sholakia area of Kishoreganj district, BNP-Jamaat activists stopped the car and vandalised it.
A case has been filed with Kishoreganj Sadar Model Police Station, he added.
Like elsewhere in the country, hartal was also observed in Kishoreganj district with shops remaining open and train services remaining normal.
BNP-Jammat activists set a Dhaka-bound passenger bus on fire at Tara Bridge area of Manikganj Sadar upazila on Dhaka-Aricha highway during hartal this morning.
Although there were no casualties, most parts of the bus were burnt.
Being informed, the fire brigade personnel rushed to the spot and brought the fire under control after half an hour of efforts.
Officer-in-Charge (OC) of Golra Highway Police Station Sukhendu Basu said that some men got on the bus in the guise of passengers. When the bus crossed the Tara Bridge, they stopped the bus and called all the passengers to leave the bus.