Country
Most are suffering from water-borne diseases, no steps yet to rehabilitate them
A tale of a few poor children
---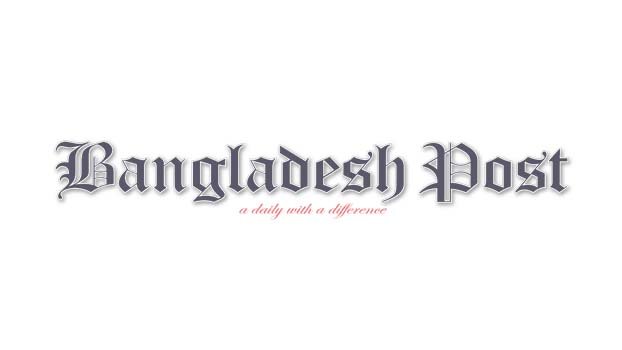 No government bodies has taken any steps yet to resettle about 42 families and their children, who have taken shelter at the bank of Karnatali river for years long.
Even after multiple reports being published in several media including Bangladesh Post at different times, focusing on their miserable life, next to Dhaka-Aricha highway at Bank town bridge area in Savar, on the outskirts of the capital, no steps were taken in this regard.
However, Md Mazharul Islam, Savar Upazila Nirbahi Officer on Thursday morning visited the place after Bangladesh Post's Savar correspondent brought the issue to his notice.
The UNO told The Bangladesh Post, "Actually, I did not know about them, even nobody brought it to my notice earlier, however, as I am informed now, I assure you that I will try my best to resettle them as soon as possible, besides, steps to bring the children under primary education, will be taken shortly. I will arrange treatment facilities for them too, if needed."
Bangladesh Post recently visited the spot and found most of the children from those families, still out of primary education, which is leading them to a dark future. Apart from that, all those families are even deprived of minimum fundamental rights that they deserved at least as a citizen, even most of them are suffering from different kinds of water-borne diseases especially the children, as no pure drinking water facilities there, which forces them to drink polluted river water.
It was know that earlier a local NGO namely Welfare-Health Organizations Society of Bangladesh set up some toilet and a deep tube well there, though the tube well now become ineffective as well.
Bayron Bala, the NGO's Chairman told The Bangladesh Post, The families and the children lead so miserable life so that we set up some toilets and a deep tube well there last year, to elevate their sanitation problem. We, though, trying our best to assist them as much as we can. But we aren't able to do anything more for them as we don't have any donors as our organization is yet to be recognized by the concerned authority. I think government should take steps to resettle them, and it will be the best solution I think.
Bala said more than hundreds people lives there in 42 families, whereas 60 are children. Among them, 38 children are aged fewer than 12. "Basically, the people are, especially the women, don't aware about family planning, which causes they give unplanned childbirth, and suffers from malnutrition both of the children and mother as well", he added. It was known after talking to multiple members of those families that each of family has 4 to 6 children, even some women there, who gave 4 child' birth in last 6 years.
Bangladesh Post asked whether any local family planning officials or workers visit them, but they claimed none of any health-related person comes to them ever.
However, when contacted Md. Mezbah Uddin, Upazila Family Planning Officer of Savar told The Bangladesh Post, "It's not supposed to happen, as a total of 80 of our family planning workers works in field level to ensure family planning service for all. However, I will ask our workers to bring them under family planning service if still anybody out of our service. On the other hand while talking about child education, one Sundori Begum, said, they don't send their children to any school as they think it's expensive, which they can't afford. "We are very poor and some of us still begging to make living. Earlier, some young came here and used to educate our children, but they stopped coming since the pandemic begins.
Bangladesh Post talked to Didarul Islam, Founder secretary of Jagroto Bibek Foundation, a non-profit organization, who said they earlier operated a temporary school there, but now their activities were postponed due to pandemic situation.
He, however, said they resume their activities within a few days. "We are working for the children for last 4 years, and during this time we feel that the children are even deprived from minimum needs. So I think government should take steps to protect their rights to lead them to a bright future". Adding that, we should not forget that how would be their future depends on today. So if we failed to nursing them properly, then in future each of them will be burden for this society.
Salahuddin Khan Noim, General Secretary of Savar Nagorik Committee told The Bangladesh Post, I don't understand how the children are out of primary education facilities yet, as the ruling government has already taken many sorts of initiatives to bring all the country children under primary education. I urge local administration, and the concerned authority to look into the issue, as well as take proper initiative to resettle those families. "Dr. Sayemul Huda, Upazila health and family planning officer confirmed that the child suffering from scabies, a water-borne disease, and assure that he will send a medical team to provide medical support to those families".