National, Back Page
Army gives message to people with flower
---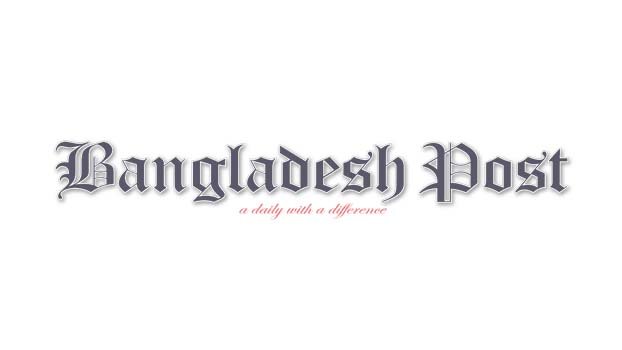 The government has engaged various law enforcing agencies to ensure that mass people stay home in a bid to resist the possible outbreak of the deadly coronavirus in the country. Members of the Armed Forces including Bangladesh Army have also been deployed across the country in aid to civil administration during this national crisis.
Bangladesh Army personnel are working diligently in various ways so that the deadly coronavirus does not spread across the country. According to Lt Col Abdullah Ibn Zaid, Director of the Inter Services Public Relation Directorate (ISPR), more than 399 teams of Bangladesh Army in sixty two districts are participating with civil administration in various anti-coronavirus activities.
More than five thousand members of Bangladesh Army are working with the civil administration currently, he added. Some members of the Bangladesh Army are working with a different approach in convincing mass people to stay at their respected homes, which is crucial in our effort to stop possible outbreak of the deadly virus.
Members of the 10th Division of Bangladesh Army have set an extra-ordinary example with an exceptional approach to convince the mass people. Talking to this correspondent Lt Col Rumman Mahmud of 63 East Bengal Regiment under the 10th Division of Bangladesh Army said, "We are working to create mass awareness against coronavirus at Teknaf Sadar Upazila and Marine Drive area."
He said they are giving flowers to the people along with the message that they should stay indoors during this critical time. When army personnel come to the civilians usually most of them become very afraid. But when they receive such loving gifts from the army they become completely surprised, eyewitness said.
"You have done a wonderful job by staying at your home," an army man said to a local woman after entering her residence at Teknaf Sadar Upazila of Cox's Bazar district. He explained to her with a smiling face why it was important and safe for all to stay at home and follow other instructions.
Local veterans said that army has proven again that you can win hearts with a smile on your face. This friendly approach of the members of the armed forces has become the talk of the town in the tourist hub Cox's Bazaar. Rickshaw puller Moniruzzaman was standing at the Eidgaon Bus Stand in Teknaf under Cox's Bazar district for passengers. He had to come out to earn money so he could feed his minor babies.
He said, "When I saw that army men were coming towards me, I really became very afraid. But within a few moments, I found out that they were different types of army." Since I violated the government order and went out, I was expecting some sort of punishment from the army. But they said, "Dear uncle, please don't be afraid. If possible, please don't stay outside at all."
"My eyes were filled with tears seeing this type of love and care for the poor people like me", the rickshaw puller narrated. "Later, they gifted me flowers," he said adding, "I instantly returned to my home in respect of the loving army personnel." Alauddin, a pedestrian was fleeing hurriedly seeing the army patrol team coming. "But I saw that after getting down from their vehicle, a member of the army was gifting flowers to the pedestrians and convincing them to stay at home,'' he said.
They also gifted me flowers and advised me to stay inside my home until the situation gets normal, he added. According to the local sources, army men are also convincing displaced Rohingya people living at different camps in Cox's Bazar. They are also offering flowers to these helpless citizens of Myanmar.
They are also holding series of meetings with leaders of Rohingya communities, volunteers and officials of different local and international donor agencies to press home the importance of staying indoors at such time. According to the army sources, members of army are also spraying disinfectants at different important areas in Cox's Bazaar district. These activities will continue until the situation becomes normal.